Print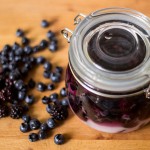 Small Blackberry Blueberry Rumtopf
A delicious, alcoholic fruit compote that you can customize however you wish.
A half cup of blackberries

A half cup of blueberries

Half a cup of sugar

Enough overproof rum

100 - 110 proof to cover
Wash berries and remove any stems. Puncture blueberries with the tip of a knife, needle or pin. Place berries in small container - either stoneware, ceramic or snap lock glass. Add half cup of sugar to fruit. Pour alcohol over fruit and sugar mixture until there is 1/2 inch of rum over the fruit.

Store in cool dark place for 1 - 2 months.

Serve in small quantities over vanilla ice cream or use 2 parts sparkling wine and 1 part Rumtopf liquid for a sweet cocktail.