Print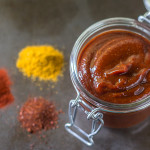 Quick Curry Ketchup
This flavourful curry ketchup is quick and easy to make. It's similar to the Hela brand in taste and pairs perfectly with sausage, fries, burgers or anything else where you like tomato ketchup.
1

cup

of Tomato Ketchup

4

teaspoons

of Curry Powder

2

teaspoons

of Sweet Paprika

2

teaspoons

of Worchester Sauce

2

teaspoons

of Mild Honey

1

teaspoons

of Chili Powder

1

teaspoon

of Water
Simply put all the ingredients into a bowl and mix together very well. Let it rest overnight in the fridge to let the flavours meld.
Variation:
Replace 1/2 teaspoon of Sweet Paprika with 1/2 teaspoon of Hot Paprika if you want some extra heat.