Print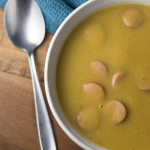 Classic Potato Soup
A classic German potato soup that uses bacon fat as the secret ingredient. Thick, creamy and filling - it's easy to whip up for a crowd!
A little over 2 lbs of Yukon Gold Potatoes

One large Leek

One bunch of Suppengrün

German soup vegetables

6 - 7

cups

of Chicken Broth

4 - 5

slices

of thick cut Bacon or 5 oz of unsliced Bacon

Bacon Fat from the cooked Bacon

1/4

cup

of Cream

Salt and Pepper to taste
Peel and evenly chop the potatoes. Cut the leek down the middle, wash out all the grit and slice both sides. Roughly chop up the Suppengrün.

Preheat a large pot on medium and add some canola oil. Add all of the chopped vegetables and give it a good stir. Cover and let it cook down for 10 mins, stirring often to prevent too much sticking. When leeks are wilty, add in enough chicken broth to cover everything. This is usually about 6 - 7 cups. Cover and cook on medium low for 20 minutes.

While vegetables are simmering in the broth. Cook bacon and save all of the fat.

When potatoes and carrots are tender, puree with an immersion blender. Add bacon and bacon fat to the soup. Add 1/4 cup of cream or 1/3 cup of milk and stir thoroughly. Adjust the flavours with salt and pepper to your liking.

If adding wieners, chop and add to soup. Let them warm up for 5 minutes before serving.
If you have questions about Suppengrün, just see my previous post!