Print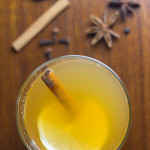 German Mulled Hard Cider (Glühmost)
A soul-warming drink, Glühmost is perfect for cold winter nights, holiday parties or even if you're trying to kick a cold.
Place all the ingredients (except orange juice if you're using it) into medium sauce pan and bring to a simmer on medium low heat. Let the cider steep for 20 minutes. Do not boil!

If you're adding the orange juice, pour it in at the end, stir gently and give it a minute or two to warm up.

Pour the Glühmost through a fine mesh sieve to remove the spices bits and the lemon slices. Serve with an extra lemon slice and a cinnamon stick or star anise as garnish.
You can break up the star anise into smaller pieces to extract more flavour.