Print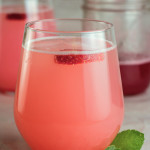 Strawberry Rhubarb Spritzer
Strawberry Rhubarb Spritzer takes a beautiful, homemade, ruby red syrup and pairs it with mineral water for a refreshing, springtime drink.
Syrup
6

oz

of Chopped Strawberries

5.5

oz

of Sliced Rhubarb

1/2

cup

of Water

1

cup

and 1tbsp of Sugar

3

+ 1/4 teaspoons of Vanilla Extract

or 1.5 tablespoons of Vanilla Sugar

1/8

cup

of Lemon Juice
Wash, clean and slice up the rhubarb. Wash, dehull and chop up the strawberries into small pieces. Place both into a medium sauce pan with 1/2 cup of water. Bring to a boil and than reduce the heat to medium. Cook for 10 minutes, stirring occasionally, until everything becomes very soft.

Place a fine mesh sieve onto a medium bowl. Pour the strawberry rhubarb mush into it. With the back of a ladle, press the liquid out of the fruit & vegetable mush. Discard leftover solids.

Pour the liquid back into the medium sauce pan. Add sugar, vanilla extract and lemon juice. Cook on medium low for 5 minutes, stirring often, until sugar is dissolved. Taste as it cooks to see if it's sweet enough for you. Enjoy!
This makes approximately 1 + 1/4 cups of syrup. The recipe can easily be doubled if you need more.
The syrup does not have a long shelf life. Keep it cool in the fridge and plan to use it up within a week or two.
Adapted from Homemade! Das Goldene von GU