Print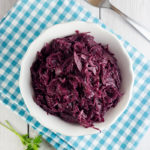 Easy Braised Red Cabbage
This easy red cabbage with apple recipe takes a ready-made product and makes it taste more like homemade with just a little extra work.
1

jar of ready-made Red Cabbage with Apple

1/2

tart or semi tart Apple

like Granny Smith

1

Bay Leaf

3

tablespoons

of Red Wine Vinegar

1

tablespoon

of Lingonberry or Red Currant Jelly

1

tablespoon

of Bacon Fat
Thinly slice half of an apple. Melt bacon fat in a large pot over medium heat and saute the apple slices until soft and lightly browned. Add jar of red cabbage and saute for 5 minutes. Fill empty red cabbage jar 1/3 full with water and pour over cooking cabbage. Add red wine vinegar, lingonberry jam, bay leaf and juniper berries. Stir well. Cover the the pot and cook for 30 minutes on low. Enjoy warm!

Traditionally served with roast pork, duck, goose or sauerbraten. Also pairs well with bratwurst.
If your jar of ready-made red cabbage doesn't have apple in it, just add the whole apple instead of just half.
You can substitute red wine for red wine vinegar if you want it to be a little less tart.
Any type of red jelly or jam works for this recipe. Black currant jelly as well.
Olive oil or vegetable shortening can be subbed for the bacon fat.