Print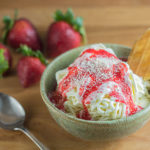 Spaghetti Ice Cream
A classic German frozen treat, Spaghetti Ice Cream has been a favourite of children (and adults) for decades. Learn how to make one at home with just vanilla ice cream, strawberries, sugar and white chocolate!
Place your potato rice and serving dishes into the freezer until well chilled.

Quarter strawberries and place into blender with sugar. Let sit for 5 - 10 minutes to draw out extra juices. Add orange juice, if using, and blend well for 5 minutes. Pour sauce into jar and place into fridge to cool. Grate white chocolate and set aside.

Assemble by putting 2 - 3 scoops, or however much ice cream is desired, into potato ricer and press firmly, letting the ice cream noodles drop onto serving dish. Top with strawberry sauce and grated white chocolate.

Serve immediately and enjoy!
Shredded coconut or almond pieces can be used as a topping instead of white chocolate.
Any type of vanilla ice cream works for this (lactose free, coconut, soy, etc), but the creamier the better for forming the "noodles".
Adapted from Istructables