Print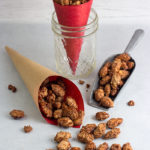 Gingerbread Candied Almonds (Gebrannte Mandeln)
These sugar and spice crusted almonds are quick, easy to make and utterly addicting. I dare you to eat just one. They will make your house smell like a German Christmas Market.
2

cups

of Raw Almonds

1/2

cup

of Water

1

cup

of Sugar

1 1/2

teaspoons

of Vanilla Sugar

2

teaspoons

of Lebkuchen Spice
Line a small cookie sheet with parchment paper and set aside. Mix sugar, vanilla sugar and Lebkuchen spice blend.

Add water and sugar mix to your pan. Set on medium heat to bring to a boil. We want bubbles over the entire surface before adding almonds. Once boiling, add almonds and stir frequently to evenly coat for 8 - 10 minutes. In the last 2 minutes, the water will have evaporated and sugar mix turned powdery. Stir continuously until the sugar mix starts to melt and glaze the almonds. Remove from heat and pour onto the parchment paper lined cookie sheet. With two forks, separate any almonds sticking together. Let cool for 5 - 7 minutes and then enjoy!
For a more traditional version, sub the Lebkuchen spice mix for 2 teaspoons of cinnamon.
If you can't find ground anise seed, you can grind your own with a mortar and pestle or spice grinder.
Adapted from Kuechechaotin