Print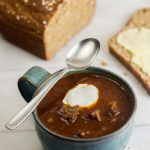 Goulash Soup (Gulaschsuppe)
We need warm and hearty for dreary winter days. Goulash Soup is perfect with its bold beef, onion and paprika flavours. Stick to your ribs good!
Cook Time
1
hour
45
minutes
1

lb

of Beef for Stew

cut into 1/2 inch pieces & fat removed

1 1/2

medium Onions

vertically cut

2

Garlic Cloves

minced

2

tablespoons

of Sweet Hungarian Paprika

1/2

teaspoon

of Hot Hungarian Paprika

1/2

teaspoon

of Thyme

1/2

teaspoon

of Marjoram

1/2

teaspoon

of Caraway Seeds

2

tablespoons

of All Purpose Flour

3

tablespoons

of Tomato Paste

1

cup

of Petite Diced Tomatoes

6

cups

of Beef Broth

1

liberal squirt of Worcestershire Sauce

1

tablespoon

of Tomato Ketchup

Salt and Pepper to taste through the cooking process
Brown the beef in batches on medium high to ensure even browning. Remove beef and sauté onions and garlic together until onions are yellow and turning soft. Return beef to pan with onions and reduce heat to medium.

Sprinkle in both sweet and hot paprika. Stir and cook together for 1 - 2 minutes. Add flour, thyme, marjoram and caraway seeds. Stir to coat evening and cook for 1 - 2 minutes. Add tomatoes and tomato paste. Stir one last time. Pour in hot beef broth and scrape bottom of pot to remove anything that's stuck. Add Worcestershire sauce and ketchup. Reduce heat to low and let it simmer for 1 - 1 1/2 hours.

Enjoy with a side of hearty bread.
You can substitute one cup of Beef Broth for one cup of Red Wine
Try out Pork instead of Beef
You can top your bowls with a dollop of Sour Cream or a splash of Cream
Adapted from Bayerisches Kochbuch