Print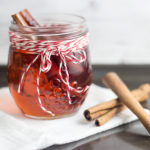 Cinnamon Caramel Syrup (Zimt-Karamell-Sirup)
Warm, comforting and perfect for fall, this amber Cinnamon Caramel Syrup a beautiful addition to rice pudding, coffee, hot chocolate or ice cream.
Ingredients
1

cup

of Sugar

1

cup

of Water

2

Cinnamon Sticks
Extra Equipment
A clean Bottle or Jar that can be tightly closed

A medium heavy bottomed saucepan
Preheat your pot on medium heat. Make sure it's nice and hot before adding your sugar. Once wetness forms around some of the edge, stir to keep the sugar from getting too brown and burning. When the sugar chunks have mostly melted and the liquid is an opaque golden brown, carefully pour in the water. Bring the sticky syrup to a boil and stir to remove any sugar from bottom of pan.

Add the cinnamon sticks and reduce heat to medium low. Cook on a low boil for 9 - 11 minutes, stirring frequently. The rising bubbles should turn foamy in the last few minutes and the syrup should start to coat the spoon slightly. If this has not happened by the end of the cooking time, keep going in 30 second or 1 minute increments.

Pour hot liquid into a clean jar. Store with a tight lid for up to 3 - 4 months.
Syrup thickens as it cools, so don't let it cook too long or else you'll end up with rock hard candy in a jar. It should still be fairly liquid (like heated maple syrup) when you're done but coat the spoon ever so slightly.
Be sure to store the used cinnamon sticks with your syrup. It will help deepen the flavour.
Adapted from Homemade! Das Goldene von GU