Print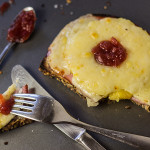 Dress Up Toast Hawaii
A melty, open faced ham, cheese and pineapple sandwich.
One slice of Whole Wheat Bread

One slice of Smoked Ham

One slice of Pineapple

canned or fresh

Several slices of Gruyère cheese
Lightly toast the bread and butter on both sides.

Place ham on bread and the pineapple on top.

Arrange cheese to cover.

Broil in the oven on High for 2 minutes until cheese bubbles and begins to brown.
Optional garnish: Cranberry or Lingonberry jelly/sauce
Use whatever cheese you like best. Brie is also an excellent option.
Adapted from Clemens Wilmenrod