Print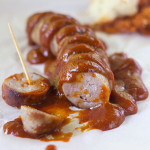 Homemade Currywurst
A quick and easy currywurst recipe that will bring back memories of Germany. Smoky, spicy and a little sweet - it's perfect over bratwurst.
Bratwursts

1

cup

of Tomato Ketchup

1/4

teaspoon

of Baking Soda

sounds weird but trust me

4

– 5 teaspoons of Mild Curry Powder

2

teaspoons

of Smoked Paprika

1

teaspoon

of Onion Powder

1/8

– 1/4 teaspoons of Cayenne Pepper
Put 1 cup of tomato ketchup in a small saucepan and heat on medium low. When ketchup is warmed through, add baking soda and stir continuously until foaming subsides. Ketchup should look normal again.

Reduce heat to low. Add remaining ingredients, through to water and stir until combines. Let it simmer on the stow for 5 - 10 minutes to meld flavours.

Serve warm over sliced bratwurst with crusty bread or fries as a side.
– You can easily sub the beef broth for veggie broth to make this a vegetarian dish.
– Feel free to omit the cayenne pepper completely if you don't like a lot of spice.
– If you don't have smoked paprika, using liquid smoke and sweet paprika should work.
– If you don't have any (or want any) paprika, this recipe should still work without it.