Print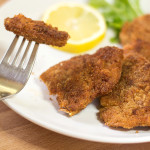 Kinder Schnitzel
Small, crispy and tender, these make the perfect little meat dish for both small and large appetites alike.
Spices for the Pork
Coarse Salt

Fresh ground pepper

Sweet paprika

Garlic powder
Prep by beating at least one egg into a low bowl and putting breadcrumbs into another. You can either add more as you go or start with more, if you wish. Set up paper towels on top of a wire rack.

Thinly slice pork tenderloin, removing any large pieces of fat in the process. Lay out side by side and press flat with your hand or the flat side of a broad knife. Liberally season with salt, pepper, paprika and garlic powder. Set aside.

Heat oil in a large frying pan on medium. When oil is hot, start dredging meat slices in egg and then cover with breadcrumbs. Place directly into pan and reduce heat to medium low. Fry for 3 - 4 minutes on each side or until crust is golden brown.

Place them on paper towel covered wire rack to drain the excess oil for a few minutes. Garnish with lemon and serve immediately. Enjoy.
Make great leftovers for sandwiches!