Print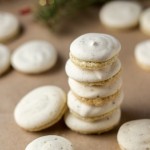 Vanilla Anise Drop Cookies
Light and delicate, these vanilla anise drop cookies are like a cross between meringues and springerle. The true marker of success with anise drop cookies is whether or not they develop "feet" or Füsschen and a top or Haubchen. During the resting, or aging, period a portion of the egg whites and sugar rises to creating a bit of a meringue-like top layer.
Prep Time
4
hours
25
minutes
Total Time
4
hours
40
minutes
1

cup

of All Purpose Flour

1 1/4

cups

of Powdered Sugar

2

teaspoons

of Vanilla Sugar

2

Room Temperature Eggs

1/2

teaspoon

of Baking Powder

1/4

teaspoon

of Salt

3

teaspoons

of Ground Anise Seed
Whisk the flour, salt, baking powder and ground anise seed together. Set it aside for later.

Beat 2 room temperature eggs on medium for 1 minute until nice and frothy. Sprinkle in the powdered sugar over the eggs and beat for 2 minutes. Add the vanilla sugar and beat for total of 15 minutes. Mixture will become cream coloured. Sprinkle in the whisked flour mixture and beat on low for 1 minute.

Spoon or pipe dough onto the greased and floured baking sheets. If using spoons, scoop out large walnut sized pieces of dough and carefully place them onto the baking sheets.

If using a piping bag, try to get them about 1.5 to 2 inches in diameter. Within a few minutes, the tops will flattening.

Set the baking sheets aside someplace warm and dry. Let them rest for 4 hours. As they age, they will harden up.

Bake at 300 degrees for 15 - 17 minutes, depending on how large they are. Let the cookies cool on the baking sheets for 5 minutes. Gently remove them with a metal spatula and transfer to a wire rack to cool the rest of the way.
If you're looking for a more tradition taste to these, just omit the vanilla sugar and reduce the ground anise by 1/4 or 1/2 teaspoon.
Be sure to use a greased (I used butter) and floured baking sheet and skip using baking spray or parchment paper. With this you should get little "feet" on your cookies.
Double rack them if you ended up with two baking sheets. It doesn't seem to make a difference if they're in the middle rack or on the bottom rack.
Adapted from Canadian Living