Print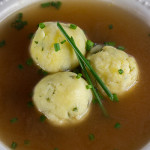 Traditional Semolina Dumpling Soup
Semolina Dumpling Soup is a traditional Bavarian appetizer. Light and fluffy, the dumplings soak in a flavourful beef broth and are garnished with chives.
1/2

cup

of Semolina Flour

I use Bob's Red Mill

3

tablespoons

of room temperature Butter

1

Egg

1/4

teaspoon

of Salt

Pinch

of Baking Soda

Freshly grated Nutmeg

1/8 teaspoon of ground works too

4

cups

of your favourite Beef Broth

Chopped Chives for garnish
Melted the butter and let it cool. Pour butter into medium bowl and whisk together with the egg for 2 -3 minutes or until bubbles begin to form. Add semolina flour, salt, baking powder, freshly grated nutmeg and parsley, if using. Mix thoroughly and form into small dough ball with your mixing utensil. Let dough rest for 15 minutes.

Bring well salted water to a boil in a large pot and reduce to medium. Form dough into small round balls or 3 edged oval shapes shown in post. Make all rather small but uniform in size as they will double in size as they cook. When water is at a high simmer, but NOT boiling, place shapes into the water with a slotted spoon. Let them cook for 5 minutes on medium. Dumplings will have risen to the top before the 5 minutes is over.

Reduce the heat down to low and let the dumplings cook for at least another 15 minutes. Dumplings will sink back down as they grow. Take one out to test to see if it's cooked through (soft and no darker spots in the middle). If they are still firm, cook for an additional 5 minutes or until soft, but not mushy.

Remove done dumplings from the water and place desired amount into a bowl. Ladle your favourite broth over the dumplings and garnish with chopped chives.

Enjoy immediately!
The best flavour for the semolina dumplings comes when you cook them directly in the broth. Well salted water is the best place to start because you'll likely end up with bits of semolina dough floating around in the water on your first few tries.
Extra dumplings you might have keep really well in a tightly sealed container in the fridge for a few days.
Adapted from Bayerisches Kochbuch