Print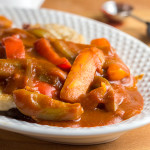 Spicy Paprika Sauce
Spicy and sweet, this German restaurant style paprika sauce, or zigeunersosse, is perfect poured over schnitzel, pork chops, chicken breasts, potatoes or rice.
1

cup

of vertically sliced Onions

3

cups

of sliced Bell Peppers

I use red, orange, yellow and green

2

crushed Garlic Cloves

2

tablespoons

of Flour

2 1/2

teaspoons

of Sweet Hungarian Paprika

1

teaspoon

of Hot Hungarian Paprika

3

tablespoons

of Tomato Paste

1 1/2

cups

of Vegetable Broth

or Chicken

1 - 2

teaspoons

of Lemon Juice

or to taste

2 - 3

teaspoons

of Honey

or to taste

Salt and Pepper to taste
Saute the onions in oil on medium for 5 minutes, or until soft and starting to brown. Add the peppers and saute for another 2 - 3 minutes. Add the garlic, flour and 2 types of Hungarian Paprika, mix well and let it cook for an additional 1 - 2 minutes.

Add tomato paste and stir. Add the broth little by little, stirring after each addition until thoroughly combined. Sauce will start to thicken. Reduce the heat to low and cook gently for 20 minutes, stirring occasionally.

At the end, start by adding 1 tsp of lemon juice and 2 tsp of honey. Stir and taste. Adjust with extra lemon juice and honey, to your liking. Sauce should be spicy, sweet and gravy-like in consistancy. Salt and pepper the end to your taste as well.
You can control with adding more or less Hot Hungarian Paprika. If you don't want any spiciness, omit it completely but add a 1/2 of extra Sweet Hungarian Paprika. If you don't have any Hot Hungarian Paprika, you can substitute 1/8 – 1/4 teaspoon of cayenne pepper.
Traditionally served over a pork schnitzel, it also goes with pan fried chicken breasts, pork chops, over potatoes or rice.
Adapted from Jennifer MacGavin