Print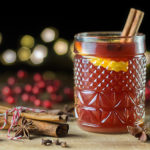 A German Kinderpunsch Recipe
Warm your soul and hands with non-alcoholic mulled Kinderpunsch on a cold winter's day. Made with herbal tea, fruit juice and lots of spices.
Garnishes per Glass
Star Anise

Cinnamon Sticks

Orange or Lemon slices
Bring the water to a boil in a medium sauce pan. Remove from heat and steep the tea bags, spices and lemon slices for recommended time for the tea. Remove tea bags when done.

Return pot to burner, add juices and sweetener (if using) and heat on low - medium low for 8 - 10 minutes. Do not want bubbles, just want to heat drink through and let spices to continue to steep.

Ladle Kinderpunsch into heat proof glasses or your favourite mugs, decorate with lemon or oranges slices, cinnamon sticks and/or star anise. Enjoy!
A star anise or two is a great addition to the spices.
You can substitute any berry or fruit blend tea here as most of these teas already use hibiscus as a base. You can also use a berry blend black tea.
1 cinnamon stick is equivalent to 1/2 teaspoon of ground cinnamon and 3 whole cloves are equal to 1/4 teaspoon of ground cloves, swapping out ground for whole works. Just have to strain it through a fine sieve to remove as much as possible before consuming.
Adapted from ChefKoch.De